We, the community of Hillview United Methodist Church, acknowledge that the fullest, truest expression of what we believe about God is revealed in how we behave towards ourselves and others. 
We are learning how to better support one another in the work we feel called to do in Christ's name – locally and globally. Such efforts include striving for peace and justice; protecting, sustaining and repairing the earth; bringing help and hope to those people who struggle; and other loving work.
To live the teachings of Jesus as we share God's unconditional love.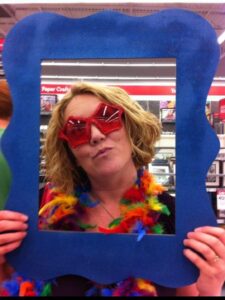 Claire (Longpré) Chambers has been the Director of Youth Ministries at Hillview since 2005.  She first discovered a love for youth ministry as a volunteer at St. John's UMC in Anchorage, AK.  She continued volunteering at Trinity Heights UMC in Flagstaff, AZ, and at Peninsula Lutheran Church in Gig Harbor, WA before finally accepting a paid position at Hillview.  She loves sharing her passion for God through hosting weekly youth group, small group studies, and confirmation classes (offered every other year).  Claire also plays cello in the praise band. 
In addition to youth ministry, Claire teaches special education at Lowell Scott Middle school.  Prior to life as a teacher and youth director, she was a geologist/hydrologist for the U.S. Geological Survey in Flagstaff, AZ, and Tacoma, WA. 
In her spare time, Claire loves to hike with her two huskies, Kiva and Junie, garden, and swim.  She has been married to her partner, Jason, for 24 years. They have one son (Malcolm), dogs (Kiva and Junie), cat (Minion) and king snake (Hydra II). 
Contact Information
Office | 208.375.0392
Email | cichambers@yahoo.com